Discover the Power of Calabrio WFM: Optimal Workforce Management Solutions for Your Business!
When it comes to efficiently managing your workforce, Calabrio WFM is the ultimate tool you need. Calabrio, a leading provider of contact center solutions, has achieved a new level of efficiency and productivity with its advanced Workforce Management (WFM) software. With Calabrio WFM, you can optimize your workforce, improve customer service, and reduce operational costs.
Unlock the Potential of Your Workforce with Calabrio WFM
One of the greatest advantages of Calabrio WFM is its intuitive user interface. With a user-friendly design, it enables you to make the right decisions quickly and easily. It allows you to manage employee availability, schedule shifts, handle leaves and absences, and gain real-time insights into your staff's performance.
With Calabrio WFM, you have access to advanced features such as predictive analytics, which enable you to forecast customer demand and align your workforce planning accordingly. This helps you avoid overstaffing or understaffing situations and minimize customer wait times. By having the right person in the right place at the right time, you maximize the efficiency of your contact center and enhance the customer experience.
Additionally, Calabrio WFM offers extensive reporting capabilities. You have immediate access to real-time and historical data on staff performance, call handling times, occupancy rates, and much more. These valuable insights allow you to identify trends, pinpoint bottlenecks, and implement improvements in your workforce planning and management.
Calabrio WFM is designed to seamlessly integrate with other Calabrio products and contact center solutions. Whether you already utilize Calabrio's solutions or other systems, Calabrio WFM can easily be integrated to enable unified and consistent management of your contact center operations.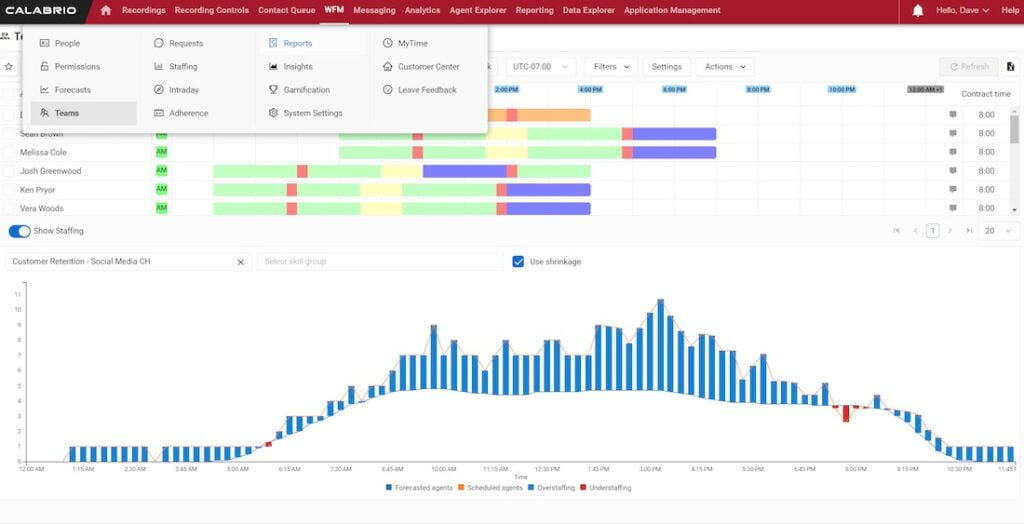 In summary, with Calabrio WFM, you gain full control over your workforce planning and management. Increase efficiency, improve customer satisfaction, and lower operational costs with this advanced workforce management solution. Discover the power of Calabrio WFM and take charge of your contact center today!
CONTACT US FOR MORE INFORMATION